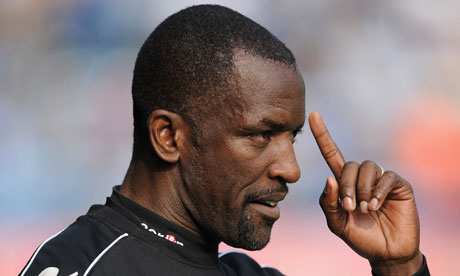 What a mess.
How can a football club have allowed itself to get into such a ridiculous position? From such a position of momentum strength eighteen months ago as well. This isn't something that has emerged overnight; like the equally ridiculous pitch situation this is something that has bubbled under the surface for a period of time and is now slapping us fully in the face.
Let's very briefly recap.
- On promotion to the Championship, the squad saw just the minimum of bolstering, mainly Wilson and Button on pay later deals, before the late arrival of Fuller.
- The squad started this season noticeably weaker than the previous out-performing season, particularly in attacking options
- A number of the most key players from the previous two seasons (Solly, Wiggins, Kermorgant, Jackson, Cort), have been unavailable for chunks, and in some cases most of the season, and have not been adequately replaced.
- Bar Cameron Stewart, the manager was not allowed to bring in any players on loan
- A number of players appear to have been unhappy for some time with regard to contracts, promises, direction of the club etc It has not been a happy camp
- New arrivals have arrived in the last few weeks, but not it would appear targeted from the manager, in the key positions required and with no real belief they will improve our starting team
We have an
interesting thread running on what we should do with the manager situation
. I had to include the fence-sitting option of 'genuinely don't know', because that is exactly how I feel.
I think Powell has been a great manager for us. I don't think he is anyway perfect, and I won't repeat my breakdown of views from September's article '
Standing up for what you believe and Hoping for Powell'
. It's rare that a manager has such a genuine connection with a club, and the like and respect from the majority of supporters, and i think if we had been in a different boardroom period, we could have gone on to have a run together like the Curbs / Murray rising years.
But I think it has stupidly been allowed to go beyond that now. This to me is a tired and exasperated regime and squad, one that was unhappily hanging in there for the first half of the season because they knew that a change in ownership was imminent. That's evolved, but nothing has really changed for the better, certainly from what we have publicly seen.
So let's break down the options:
Pay off Powell and his coaching team now
.
Pro
- The set-up appears down and disheartened, and sometimes a new face and new ideas can re-envigour and trigger a reaction. The likelihood is we appear to be going down anyway, so what exactly is there to lose?
Against
- A new man would have no time to bring in any players that he wants (and we have seen with Powell, no one appears to be able to bring in what they want), would be left with a disheartened squad he could not change, and there is no certainty he would even have any experience in English football. We know Powell appears well-liked by his squad. If he is struggling to get the best out of them (having previously proved he can), is there much chance a new outsider would? We saw what happened with Parky's squad that Powell took over in their last few months what happens when it becomes known that most of the squad are being moved on in the summer
Giving Powell a new contract nowPro
– Would equally give clarity to the situation and settle uncertainty both with supporters, current playing squad and potential new recruits
Against
– Game by game his position of strength is weakening as the uncertainty and lack of squad improvement is having more and more of a negative impact. A situation has been allowed to evolve where a number of supporters have now firmly entrenched themselves in the Anti-Powell camp, and an unwelcome and unproductive split in support is now always going to flare up whenever we lose a couple of games. Some of his decision making remains questionable, and there is an argument that some form of change either now or in the summer will probably be for the best given it has been a draining couple of years for everyone.
Keeping the status quo

Pro
– Making a big managerial decision could potentially shape how this club evolves over the next couple of years. It is unfair on RD to come in and have to make such a decisive decision so quickly. Nor was there any commitment that he was going to pay out for new recruits when he already has surplus at his other clubs. Give him time to see how his manager, and newly transferred recruits from Liege, perform
Against
- This for me is the worst option of all. I said last week following the 'meet the board' video - "
We are in a clear relegation dogfight at this point in time with just a handful of other clubs. I see a lot of those clubs taking gambles and bringing in new players to hopefully improve their situation. We at present have not done, and look likely to put all our hope and trust in a collection of players who most likely will be moving on to pastures new at the end of the season. Doing nothing would effectively be a bigger gamble than taking a gamble. I'm in no doubt this squad needs strengthening to ensure survival, particularly up front, and whoever does come in has got to hit the ground running. Small changes can make a big difference in this league, in either direction
".
So there we have it.
I genuinely think we have evolved into a situation where we are stuck between a rock and hard place, and there is no clear direction in which way to turn next. The problem with that is the worst option of all is the one that doesn't involve any form of turning. I genuinely wouldn't know what to do for the best, but fear that whatever happens will only make a difficult situation worse.
The majority of supporters at this point in time remain behind the manager, but the number that are falling into the JUST category is growing by the game, as are those in the anti group. A new contract for him now won't have the same critic-silencing impact it may well have had just a fortnight ago. Either results improve one way or another, or the backdrop is undoubtedly going to get more poisonous.
Following this club is a struggle to be enjoyable at the moment.
(Please do add your views on the YOU DECIDE thread)