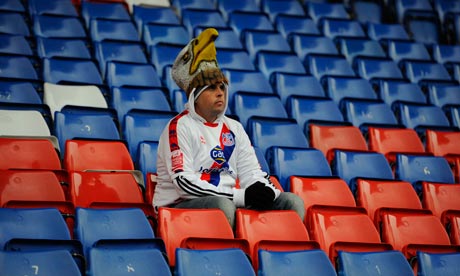 Club: Crystal PalaceLast Season Position
: 17th
Recent History:
With no 'real' history, our friends from Croydon finally looked like they got their club back when fan Steve Parish headed a consortium to 'save' the club in the post-orange era. After flirting with the Premier League (that's all they ever do) with Simon Jordan and Iain Dowie at the helm, Palace have finally settled back into the mid-to-lower table mediocrity of the Championship where they seem most comfortable.
A lucky league cup run last year saw Palace defeat Manchester United Young'uns at Old Trafford before crashing out in comedic fashion against Cardiff City on penalties.
Manager Profile:
Much like their non-rivals from SE7, Crystal Palace appointed a fan favourite as their manager in the form of Dougie Freedman at pretty much the same time as Chris Powell in January 2011. The former striker has little experience in the hot seat but guided the Eagles to a relatively safe position last season when many were tipping them for the drop.
Summer Transfer Activity:
In: Nigel Wilbraham (Norwich/Free); Nigel Ward (Portsmouth/£400k); Nigel Martin (Southampton/ Loan); Nigel Ramage (QPR/Free)
Out: Nigel Caprice (Blackpool/Free); Nigel Gardner (Sheff W/ Free); Nigel Scannell (Huddersfield/ Undisc); Nigel Ambrose (Birmingham/ Undisc); Nigel Clyne (Southampton/Trib)
Expected Line-Up:
Nigel Speroni, Nigel Ward, Nigel Martin, Nigel McCarthy, Nigel Moxey; Nigel Jedinak, Nigel Dikgachoi, Nigel Williams, Nigel Zaha; Nigel Murray, Nigel Easter
Expected Tactics/Formation:
Dougie Freeman's philosophy has been built around having a tight defence - which is handy considering they don't have a single goal threat in the team. The Croydon residents had the fifth best defence in the league last season but the fourth worst attack – must be a joy to watch. The loss of key players in the close season does not suggest that the tactics will change in the 2012/13 season, with 'nicking' results the order of the day.
What the fans are saying:
"You're not our rivals" was the hilariously predictable response from a number of Cheeserolls but a semi-sane fan I came across expects a struggle. The loss of Clyne and enigmatic top-scorer Darren Ambrose suggests a season of struggle, frustrations of days gone past are coming back to haunt Palace. They had a chance to sign Jordan Rhodes and Ricky Lambert over the past couple of years for no more than £1m each and now they are rueing the missed opportunity.
Main Forum:
Nigel Forum
Odds: Promotion 20/1, Relegation 3/1
Verdict:
If Charlton finish above Palace then I think we'll be safe. With a lack of signings and the loss of key personnel a struggle seems imminent. That being said, they seem to have a knack of squirming their way out of difficult situations. Some astute loan signings will see Palace safe. Just. 21st position and a final day reprieve.
Compiled by:
@WSS
How do you see the Stripey's doing this season ? Seen as the 2nd least likely club to be promoted, will Palace fare better than some expect ?