KFC, McDonald's, burger king plus a lot more.
What are they good for?
2 things

1) Jobs
2) Nothing 
They are addictive, dangerous and bad for the mind body and spirit. It is a step backwards. We are very gradually evolving in completely the wrong direction. We are just going to get weaker and softer. 
It also carries the harsh reality where enormous amounts of farm animals have to live rather short cruel pointless lives. 
It is very irresponsible. It makes us lazy. It doesn't help the population and it's just another highlight of our bunch of natural weaknesses.
I think and hope we can manage to just completely ditch it all. I'm only talking about major fast food chains.
We are our own worst enemy.
We think and feel like we now need it...but we don't, at all. 
We think it is a treat. It's not.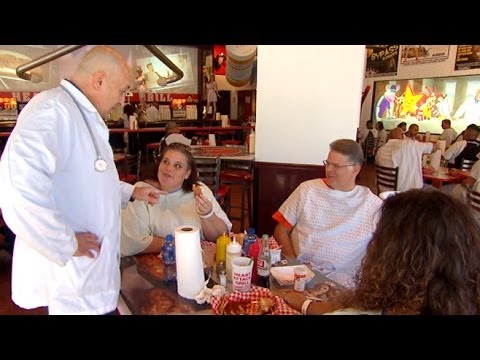 https://youtu.be/d-DDbXh1MYc

This video will also inform you.

Our lives are precious. From what we know, it is actually incredibly unlikely for us to be alive and within this present day and time.

It's about gratitude, working hard, staying fit and healthy. Making the most out of things.

"Fast food" is a step backwards. It makes the day go quicker. It reduces work ethic and can damage mental health. 

It felt like a privilege...but it is something we really do not need.

If you are fit and healthy and you feel completely fine, then you will certainly probably not agree with any of what I am saying. You are independent and you can make your own mind up to stay away from this sort of thing. A McDonald's will probably just feel like a good treat to have every now and again. 

Other people can't though. They are addicted and it is a drug. It's a revolving door and a continuous step backwards.

They just get fat and might as well say bye to whatever sort of life they may have hoped for.

I'd love it if every fast food chain refused to serve me and I was all of a sudden never actually allowed to have any of it. 

Sure, I would feel like I missed it for a bit. After a month of no fast food at all...I would probably be thinking about it.

But, as time goes on...I simply eventually probably just wouldn't care anymore. Fast food would no longer be of interest. The body has changed its mind...it no longer cares. I would have also saved a lot of money. 

Everyone would also likely be a much better cook. General knowledge of everything about food would rise.

I'm not fat and I'm not unhealthy at present. I could be a lot better though. Everyone else could be a lot better.

I think it is important to have to make an effort towards eating and drinking. 

Teenagers are probably the most vunarable towards the nature of just ordering take-aways at home every night...if they have the money. They might not be able to stop as it is simply just too easy.

"We are what we eat".